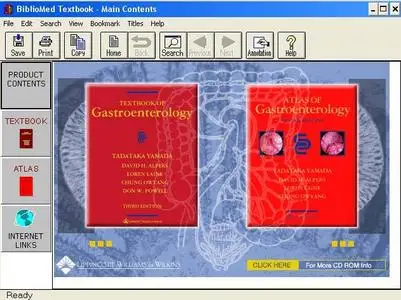 Gastroenterology CD - Textbook 3rd edition & Endoscopic Atlas 2nd edition - ISO Format (ISO Maker v1.7)
ISBN: 0781720575 (cd rom) - Aprox. 355 MB
This
IS NOT
the last edition of the book, but it's very useful as a documentation resource and as a source for graphic support for any slide show or presentation for doctors.
Esta
NO ES
la última edición del ibro, pero es muy útil como fuente de información y como apoyo gráfico para cualquier exposición médica sobre el tema.
Amazon.com review:
The thoroughly updated Third Edition of this classic two-volume work provides encyclopedic coverage of contemporary clinical gastroenterology. In 143 chapters written by leading authorities, the text reviews clinically relevant basic science, presents practical approaches to common symptoms, discusses the entire spectrum of diseases, and describes all diagnostic and therapeutic modalities available today. Complementing the text are more than 1,500 illustrations, including 122 in full color. All chapters have been extensively revised and nearly 30% of the chapters have new authors. The section on diagnostic and therapeutic modalities has a new section editor with expertise in endoscopy, and features new chapters on clinical decision-making, molecular biologic approaches, and various aspects of endoscopy. This edition also includes new chapters on gastrointestinal inflammation, oral manifestations of gastrointestinal disease, approach to the patient with a gastrointestinal neoplasm, and surgical treatment of inflammatory bowel disease.
links:
http://rapidshare.com/files/4464862/Yamada-Gastroenterology.part1.rar.html
http://rapidshare.com/files/4471358/Yamada-Gastroenterology.part2.rar.html
http://rapidshare.com/files/4475896/Yamada-Gastroenterology.part3.rar.html
http://rapidshare.com/files/4506176/Yamada-Gastroenterology.part4.rar.html
I'M VERY SORRY WITH THOSE WHO WANTED THE DOWNLOAD EARLIER, BUT I'M LEARNING HOW THIS WORKS!!!!!
I MEANT NO HARM FOR NOBODY
RECEIVE MY MOST SINCERE APOLOGIES
NO MIRRORS PLEASE!!!