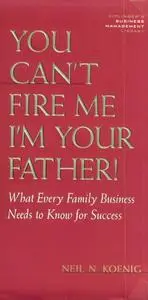 Neil N. Koenig,«You Cant Fire Me Im Your Father»
Kiplinger | ISBN 0938721747 | PDF | 1,05 Mb | 276 Pages | 2000 Year
Family businesses do not enjoy a wonderful reputation, in spite of all the good they do and their huge presence across the world's economy. Talk with insiders, and you wonder why they bother staying in business together. Accountants, attorneys and consultants roll their eyes when the topic is family business. My own accountant told me, "The worst businesses there are are family businesses. They just can't get past all their family stuff." Many nonfamily employees, especially those in management, have their lists of complaints. What they find most galling is the all-tootypical monopoly the family exercises on thinking, planning and decision making.