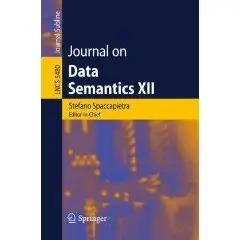 Journal on Data Semantics XII (Lecture Notes in Computer Science / Journal on Data Semantics)
Stefano Spaccapietra | Springer | Pages: 179 | 2009-07-01 | ISBN : 3642006841 | PDF | 2.7 MB
LNCS Journal on Data Semantics is devoted to the presentation of notable work that, in one way or another, addresses research and development on issues related to data semantics. The scope of the journal ranges from theories supporting the formal definition of semantic content to innovative domain-specific applications of semantic knowledge. The journal addresses researchers and advanced practitioners working on the semantic web, interoperability, mobile information services, data warehousing, knowledge representation and reasoning, conceptual database modeling, ontologies, and artificial intelligence.
Volume XII results from a rigorous selection among 20 full papers received in response to a call for contributions issued in July 2007. The volume is a special issue on Semantic Data Warehousing.