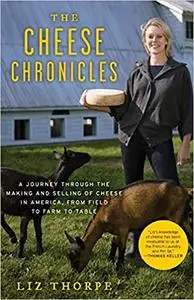 Liz Thorpe, "The Cheese Chronicles: A Journey Through the Making and Selling of Cheese in America, From Field to Farm to Table"
English | 2009 | ISBN: 0061451169 | 400 pages | EPUB | 0.48 MB
The Cheese Chronicles is an insider's look at the burgeoning world of American cheese from one lucky person who has seen more wedges and wheels, visited more cheesemakers, and tasted more delicious (and occasionally stinky) American cheese than anyone else. Liz Thorpe, second in command at New York's renowned Murray's Cheese, has used her notes and conversations from hundreds of tastings spanning nearly a decade to fashion this odyssey through the wonders of American cheese. Offering more than eighty profiles of the best, the most representative, and the most important cheesemakers, Thorpe chronicles American cheesemaking from the brave foodie hobbyists of twenty years ago (who put artisanal cheese on the map) to the carefully cultivated milkers and makers of today.
Thorpe travels to the nation's cheese farms and factories, four-star kitchens and farmers' markets, bringing you along for the journey. In her quest to explore cheesemaking, she high-lights the country's greatest cheeses and concludes that today's cheesemakers can help provide more nourishing and sensible food for all Americans.
Steve Jenkins, author of the celebrated Cheese Primer, calls this "the best book about cheese you'll ever read." The Cheese Chronicles is a cultural history of an industry that has found breakout success and achieved equal footing with its European cousins.