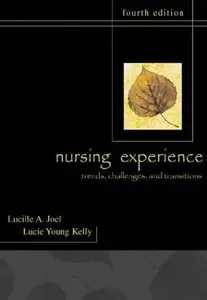 The Nursing Experience: Trends, Challenges, and Transitions by Lucille A. Joel and Lucie Young Kelly
English | ISBN: 0071363157 | 2001 | PDF | 792 pages | 9,9 mb
This very compact and informationally dense book has many outstanding features, including the expertise of the authors." "This is an excellent introduction to the nursing experience. As a reference for nurses or as a motivator for high school, pre-nursing, or nursing students, it is exemplary.
The author's current and previous professional roles add to the in-depth information. It has numerous features not found in other books, including the history of many nursing milestones. Much effort has gone into providing a succinct overview of nursing as a profession. In addition, the cover art is exceptional. I highly recommend this book for anyone interested in the history, trends, and transitions of the nursing profession.