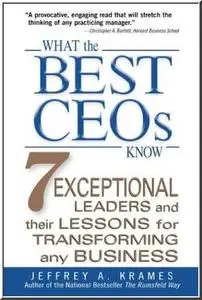 What the Best CEOs Know : 7 Exceptional Leaders and Their Lessons for Transforming any Business by Jeffrey A. Krames
Publisher: McGraw-Hill; 1 edition (March 1, 2003) | ISBN-10: 0071382402 | CHM | 0,7 Mb | 204 pages
Do seven of the most admired, most studied, and most quoted CEOs in the twenty-first century have no new knowledge to impart about their successes? Krames has created a new spin for the lessons from names such as Michel Dell and Jack Welch (plus five others) by fashioning a case-history-like approach. He sets the stage by isolating the six traits critical to great CEO success, from instilling a company-wide outside-in perspective to understanding the role of culture and how difficult it is to bring about meaningful cultural change. Then each of the seven CEOs is "assigned" a specific lesson. For example, Southwest's success in creating a performance-driven culture is introduced by a fictional business problem, headlined "What Would Herb Kelleher do?" and followed by a history of the airlines, the problem's answer, additional questions, and a synopsis of points to remember. Post-Enron, any corporate captain of industry can be tarnished; on the other hand, these lessons could remain valuable for years to come.