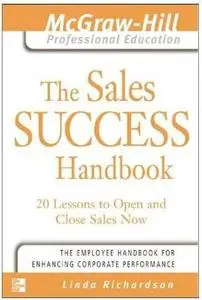 The Sales Success Handbook : 20 Lessons to Open and Close Sales Now (The McGraw-Hill Professional Education Series) by Linda Richardson
Publisher: McGraw-Hill; 1 edition (February 14, 2003) | ISBN-10: 0071416366 | PDF | 0,5 Mb | 64 pages
The classic "features and benefits" sales approach is dead. To sell today, you must add value, provide perspective, and show customers how your product will quickly and consistently solve their specific needs.
First, of course, you must listen to your customers–to discover exactly what their specific needs are.
Stop Telling, Start Selling outlines a battle-tested, six-step program for hearing and understanding exactly what your customers have to say and selling solutions instead of just selling products. Legendary sales trainer and author Linda Richardson presents 22 powerful lessons you can use to:
— Learn from your customers — Develop a questioning strategy — Drill down to needs — Listen to question meaning — Use objections to win business — Position solutions — Avoid closing tactics — Leverage your resources — Build your dialogues
Selling has never been more difficult than it is today. Internet-savvy customers already know what your product is; they want to know what it can do for them. Stop Telling, Start Selling will show you how to sell to today's customers, not by what you tell them but by how well you listen to what they have to say–and persuasively position the value you bring to meet their business and personal needs.