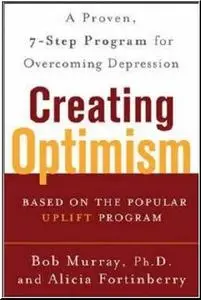 Creating Optimism by Bob Murray (Author), Alicia Fortinberry (Author)
Publisher: McGraw-Hill; 1 edition (January 19, 2005) | ISBN-10: 0071446834 | PDF | 1,3 Mb | 272 pages
Based on the authors' more than 20 years of research and practice, this unique, seven-step program challenges the conventional wisdom that healing occurs from the inside out. It shows that real change comes from building healthier relationships with other people, our own bodies, nature, and spirituality. The program can be used either without medications or in conjunction with them.
AIO BookReaders Pack
4.8 Mb: (PDF: Foxit PDF Reader Pro v2.0 Build 1414; PDB: iSilo v4.32; DjVu: DjVuReader v2.0.20 and WinDjView v0.5)
DL:
Easy-Share
or
Depositfiles
or
Rapidshare
Important
: All questions, requests, etc. for ME send to my PM (Send Message link), please (not in comments). I will try to answer all letters. But do not be offended if you do not obtain the answer. :)

No MIRRORs below!