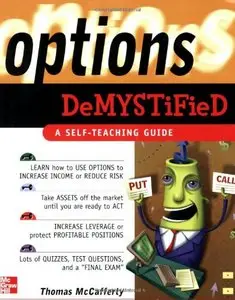 Thomas McCafferty, "Options Demystified "
M cGr w-H ill | 2005 | ISBN: 0071454152 | 304 pages | PDF | 3,4 MB
Do you want to learn how to use options without getting lost in confusing theories and complicated math? Options Demystified takes the mystery out of options, providing you with concise descriptions of various option strategies and the basic knowledge you need to execute basic stock and commodity options trades. It also includes some of the more complex techniques like covered calls, spreads, straddles and hedges, and more.
This unique, step-by-step guide uses short, snappy explanations and easy-to-understand examples–along with chapter-ending quizzes and a 50-question final exam–to give you the confidence you need to begin trading options like a pro. More important, the author reveals the psychological side of trading, so you keep a clear head in the heat of trading. You'll know why today's smartest investors and traders rely on the versatility of the options marketplace–and how you can too!
Download