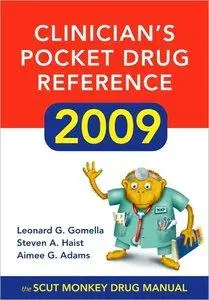 Leonard Gomella, Steven Haist, Aimee Adams, "Clinician's Pocket Drug Reference 2009"
2009 | ISBN: 0071602801 | 304 pages | PDF | 2 MB
Must-know information about 1000 of the most commonly used medictions – at your fingertips and ready to use!
Praise for a previous edition:
"This is a very useful and up-to-date pocket reference for commonly used medications. 5 Stars!"–Doody's Review Service
Why spend time plowing through information you don't need when what you really need to know is right here in one concise guide? Small enough to fit in a lab coat or shirt pocket, Clinician's Pocket Drug Reference is just what you need to practice safer and faster medicine.
Organized alphabetically by generic drug name
Common uses, mechanisms of action, dosages (adult and pediatric), precautions/contraindications, form supplied, and notes/common side effects
Includes a list of the medications organized by drug classification
Summaries of the FDA "black box" precautions and contraindications
Updated to include coverage of more than 24 new drugs and the removal of drugs taken off the market