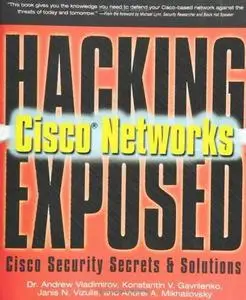 Hacking Exposed Cisco Networks (Hacking Exposed) by Andrew Vladimirov, Konstantin Gavrilenko, Andrei Mikhailovsky
Publisher: McGraw-Hill Osborne Media; 1 edition (December 15, 2005) | ISBN-10: 0072259175 | CHM | 9,8 Mb | 400 pages
Here is the first book to focus solely on Cisco network hacking, security auditing, and defense issues. Using the proven Hacking Exposed methodology, this book shows you how to locate and patch system vulnerabilities by looking at your Cisco network through the eyes of a hacker. The book covers device-specific and network-centered attacks and defenses and offers real-world case studies.