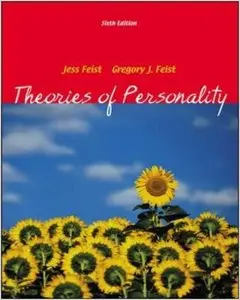 Theories Of Personality, 6th Edition by Jess Feist, Gregory J. Feist
English | 2005 | ISBN: 0072969806 | 608 pages | PDF | 86 MB
Accurate and authoritative, Theories of Personality by Jess and Gregory Feist presents 23 leading theories of personality in a thorough, interesting and logical manner. The book begins with an introductory chapter designed to acquaint students with the meaning of personality and provide them with a solid foundation for understanding the nature of theory and its crucial contributions to science.
The next seventeen chapters present twenty three major theories with a fresh approach and a more complete view encompassing, a biographical sketch of each theorist, related research and applications to real life. When appropriate, the authors point out ways in which the theorists life experiences may have helped shape her or his theory. Feist & Feist's Theories of Personality organizes personality theories into four major approaches. First it presents the psychodynamic theories of Sigmund Freud, Carl Jung, Alfred Adler, Melanie Klein, Margaret Mahler, Otto Kernberg, Heinz Kohut, John Bowlby, Karen Horney, Erich Fromm, Harry Stack Sullivan and Erik Erikson. Next, it discusses the learning theories of B.F. Skinner, Albert Bandura, Walter Mischel, and Julian Rotter. The third major approach includes the dispositional theories of Raymond B. Cattell, Hans Eysenck, and Gordon Allport. The next section includes the humanistic/existential theories of George Kelly, Carl Rogers, Abraham H. Maslow, and Rollo May. The book concludes with a final word on theorists of personality, a summary of their concepts of humanity and an overall evaluation of their theories.