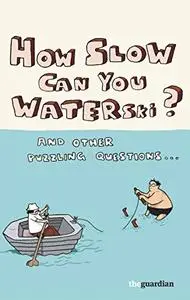 Guardian, "How Slow Can you Waterski? and other puzzling questions…"
English | 2007 | pages: 256 | ISBN: 0099505266 | EPUB | 0,3 mb
The answers to some of the big questions of our time — and a few you probably hadn't even thought of . . .
When they reduced the speed limit on Lake Windermere to 10mph, they upset a lot of water-skiers because, as it turns out, 10mph is too slow to water-ski. So, how slow can you water-ski before you get that awful sinking feeling?
When Ron Hunt of Truckee, California, fell off a ladder and onto his drill, he bore a hole through his head that went in through his right eye socket and out by his right ear. How on earth did he survive?
When Karl Heinz Hille was crowned World Beard and Moustache Champion in 2003, he said he felt "as happy as a pig in mud." But what exactly does it take to grow an Olympics-winning beard? Could anybody do it?
The Guardian's popular This Week column has been looking into the science behind the news for six years, and has drawn together a selection of these mind-boggling everyday events, the important questions they raise, and their surprising answers. If you've ever wondered why submarines keep bumping into things, or even if it's safe to eat mud, then How Slow Can You Waterski? will prove irresistible.
My Link