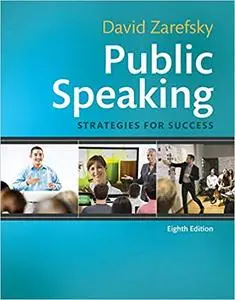 Public Speaking: Strategies for Success 8th Edition
by David Zarefsky
English | 2017 | ISBN: 0134169883 | 432 Pages | PDF | 15.32 MB
The Eighth Edition builds on the idea that public speaking is a strategic practice. It allows readers to recognize that public speaking is an art dictated by the dynamics of an audience. By learning a set of norms and expectations and strategizing how to plan for any situation, readers are better able to achieve their public speaking goals. Students learn to prepare for any public speaking situation by assessing different strategies and developing habits of analysis and memory through examples, activities and sample speeches. Emphasis on underlying theory throughout helps readers understand how certain speakers and their audiences engage one another.