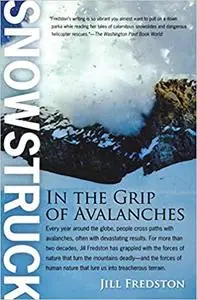 Jill Fredston, "Snowstruck: In the Grip of Avalanches"
English | 2007 | ISBN: 0156032546, 0151012490 | 352 pages | EPUB | 11.1 MB
Every year around the globe, people cross paths with avalanches—some massive, some no deeper than a pizza box—with deadly results. Avalanche expert Jill Fredston stalks these so-called freaks of nature, forecasting where and when they will strike, deliberately triggering them with explosives, teaching potential victims how to stay alive, and leading rescue efforts when tragedy strikes.
In Snowstruck, Fredston draws on decades of personal experience to take "avalanches out of the statistical realm and into the human one" (Skiing Magazine): a skier making what may prove his final decision, a victim buried so tightly that he can't move a finger, rescuers racing both time and weather, forecasters treading the line between reasonable risk and danger. Fredston brings to life the awesome forces of nature that can turn the mountains deadly—and the equally inexo­rable forces of human nature that lure us time and again into treacherous terrain.