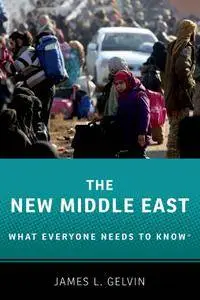 The New Middle East: What Everyone Needs to Know®
Oxford University | English | 2018 | ISBN-10: 019065399X | 206 pages | PDF | 7.85 MB
by James L. Gelvin (Author)
In the aftermath of the collapse of the USSR, the American invasion of Iraq, and the Arab uprisings of 2010-11, a new Middle East has emerged. The Syrian civil war has displaced half the country's population, and ISIS and other jihadi groups thrive in the political vacuum there and in Iraq, setting a new standard for political violence. Meanwhile, regimes in Egypt and Bahrain have become even more repressive after the uprisings there, and Libya and Yemen have virtually ceased to exist as states.
The hallmarks of this new Middle East are rebellion and repression, proxy wars, sectarian strife, the rise of the Islamic State, and intraregional polarization. International and regional actors stoke the flames, with the United States and Russia seeking to reposition themselves in the region and Saudi Arabia and Iran vying for supremacy. In the long term, perils including climate change, food and water insecurity, and population growth, along with bad governance and stagnant economies, will determine the destiny of the region.
In The New Middle East: What Everyone Needs to Know®, renowned Middle East scholar James L. Gelvin explains all these developments and more in a concise question-and-answer format. Outlining the social, political, and economic contours of the New Middle East, he illuminates the current crisis in the region and explores how the region will continue to change in the decades to come.
Review
"Using a question-and-answer approach, Gelvin presents an overview of the contemporary Middle East, touching on topics including the 'perverse results' of the Arab Spring, the Syrian civil war, the rise of ISIS and other jihadi groups, the involvement of external actors and more." – Survival: Global Politics and Strategy Vol.60.2
"Balanced, rigorous, and sparkling with insights, The New Middle East: What Everyone Needs to Know is a wonderful primer on a region long dominated by polemics and easy generalizations. James L. Gelvin brings a historian's sensibility and jargon-free prose to illuminate the afflictions that have wracked the modern Middle East-civil war, militancy, and authoritarianism, to name a few-while never losing sight of its enormous human potential. This is a must-read for veteran observers and newcomers alike."– Frederic Wehrey, Senior Fellow, Middle East Program, Carnegie Endowment for International Peace, author of Sectarian Politics in the Gulf: From the Iraq War to the Arab Uprisings?
"…the author constructs a narrative that connects modern-day events with their history, showing how the forces that shaped the Middle East indirectly led to today's problems and describing what recent history might suggest about the near future." – Zander Guzy-Sprague, Middle East Institute
About the Author
James L. Gelvin is Professor of Modern Middle Eastern History at UCLA. His publications include The Arab Uprisings: What Everyone Needs to Know®, The Modern Middle East: A History, and The Israel-Palestine Conflict: One Hundred Years of War.