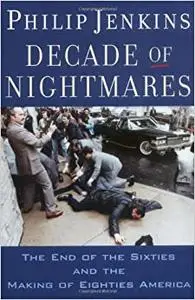 Philip Jenkins, "Decade of Nightmares: The End of the Sixties and the Making of Eighties America"
English | 2008 | ISBN: 0195341589, 0195178661 | 352 pages | PDF | 2.3 MB
Why did the youthful optimism and openness of the sixties give way to Ronald Reagan and the spirit of conservative reaction–a spirit that remains ascendant today?
Drawing on a wide array of sources–including tabloid journalism, popular fiction, movies, and television shows–Philip Jenkins argues that a remarkable confluence of panics, scares, and a few genuine threats created a climate of fear that led to the conservative reaction. He identifies 1975
to 1986 as the watershed years. During this time, he says, there was a sharp increase in perceived threats to our security at home and abroad. At home, America seemed to be threatened by monstrous criminals–serial killers, child abusers, Satanic cults, and predatory drug dealers, to name just a
few. On the international scene, we were confronted by the Soviet Union and its evil empire, by OPEC with its stranglehold on global oil, by the Ayatollahs who made hostages of our diplomats in Iran. Increasingly, these dangers began to be described in terms of moral evil. Rejecting the radicalism
of the '60s, which many saw as the source of the crisis, Americans adopted a more pessimistic interpretation of human behavior, which harked back to much older themes in American culture. This simpler but darker vision ultimately brought us Ronald Reagan and the ascendancy of the political Right,
which more than two decades later shows no sign of loosening its grip.
Writing in his usual crisp and witty prose, Jenkins offers a truly original and persuasive account of a period that continues to fascinate the American public. It is bound to captivate anyone who lived through this period, as well as all those who want to understand the forces that
transformed–and continue to define–the American political landscape.