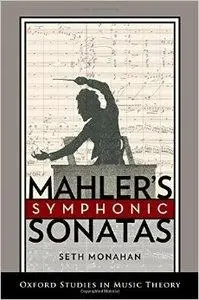 Seth Monahan, "Mahler's Symphonic Sonatas"
English | ISBN: 0199303460 | 2015 | 296 pages | PDF | 7 MB
Why would Gustav Mahler (1860-1911), modernist titan and so-called prophet of the New Music, commit himself time and again to the venerable sonata-allegro form of Mozart and Beethoven? How could so gifted a symphonic storyteller be drawn to a framework that many have dismissed as antiquated and dramatically inert? Mahler's Symphonic Sonatas offers a striking new take on this old dilemma. Indeed, it poses these questions seriously for the first time. Rather than downplaying Mahler's sonata designs as distracting anachronisms or innocuous groundplans, author Seth Monahan argues that for much of his career, Mahler used the inner, goal-directed dynamics of sonata form as the basis for some of his most gripping symphonic stories.
Laying bare the deeper narrative/processual grammar of Mahler's evolving sonata corpus, Monahan pays particular attention to its recycling of large-scale rhetorical devices and its consistent linkage of tonal plot and affect. He then sets forth an interpretive framework that combines the visionary insights of Theodor W. Adorno-whose Mahler writings are examined here lucidly and at length-with elements of Hepokoski and Darcy's renowned Sonata Theory. What emerges is a tensely dialectical image of Mahler's sonata forms, one that hears the genre's compulsion for tonal/rhetorical closure in full collision with the spontaneous narrative needs of the surrounding music and of the overarching symphonic totality. It is a practice that calls forth sonata form not as a rigid mold, but as a dynamic process-rich with historical resonances and subject to a vast range of complications, curtailments, and catastrophes.
With its expert balance of riveting analytical narration and thoughtful methodological reflection, Mahler's Symphonic Sonatas promises to be a landmark text of Mahler reception, and one that will reward scholars and students of the late-Romantic symphony for years to come.