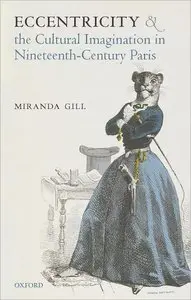 Miranda Gill "Eccentricity and the Cultural Imagination in Nineteenth-Century Paris"
Oxford University Press | English | 2009-03-15 | ISBN: 0199543283 | 320 pages | PDF | 2,3 MB
What did it mean to call someone 'eccentric' in nineteenth-century Paris? And why did breaking with convention arouse such ambivalent responses in middle-class readers, writers, and spectators? From high society to Bohemia and the demi-monde to the madhouse, the scandal of nonconformism provoked anxiety, disgust, and often secre yearning. In a culture preoccupied by the need for order ye simultaneously drawn to the values of freedom and innovation, eccentricity continually tested the boundaries of bourgeois identity, ultimately becoming inseparable from it. This interdisciplinary study charts shifting French perceptions of the anomalous and bizarre from the 1830s to the fin de siecle, focusing on three key issues. First, during the July Monarchy eccentricity was linked to fashion dandyism, and commodity culture; to many Parisians it epitomized the dangerous seductions of modernity and the growing prestige of the courtesan. Second, in the aftermath of the 1848 Revolution eccentricity was associated with the Bohemian artists and performers who inhabited 'the unknown Paris', a zone of social exclusion which middle-class spectators found both fascinating and repugnant. Finally, the popularization of medical theories of national decline in the latter part of the century led to decreasing tolerance for individual difference, and eccentricity was interpreted as a symptom of hidden insanity and deformity. Drawing on a wide range of sources, including etiquette manuals, fashion magazines, newspapers, novels, and psychiatric treatises, the study highlights the central role of gender in shaping perceptions of eccentricity. It provides new readings of works by major French writers and illuminates both well-known and neglected figures of Parisian modernity, from the courtesan and Bohemian to the female dandy and circus freak.
To start download click HERE: