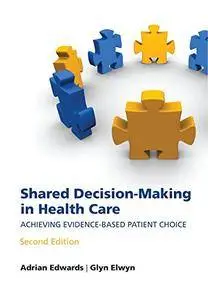 Shared decision-making in health care: Achieving evidence-based patient choice by Adrian Edwards
English | 2009 | ISBN: 0199546274 | 432 Pages | PDF | 2.01 MB
When the first edition of this book came out in 2001, it examined the emerging themes of patient choice and clinical decision-making, and looked at how these might develop in the future. Since then, these issues have become even more topical. Evidence-based medicine is deeply ingrained in the practice of modern medicine, while patient choice is increasingly high on the political agenda. But can the two trends co-exist? "Shared Decision Making" has developed in response to the sometimes uneasy relationship between a patient's right to have input into their treatment options, and a clinician's responsibility to provide the best evidence-based health care.
Imagine a patient with osteoarthritis in her knee. She and her doctor are considering whether she would benefit from surgery to replace her knee joint. This sort of decision is typical of many in health care where there is more than one reasonable alternative available to the patient and her doctor. These alternatives include surgery, physiotherapy, medication, complementary remedies, and more. What is right for one patient may be different from what is right for another. Clinical information (such as results of x-rays or even patient-reported symptom score), though necessary, is not sufficient to determine the best treatment.