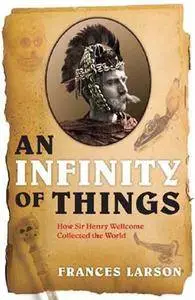 Frances Larson, "An Infinity of Things: How Sir Henry Wellcome Collected the World"
2009 | pages: 358 | ISBN: 0199554463 | PDF | 3,7 mb
Richly illustrated throughout, including 8 pages of color plates, An Infinity of Things tells the story of the greatest private collection ever made, and the life of the man behind it. American-born Henry Wellcome made his millions as one of the world's first pharmaceutical entrepreneurs. Drawing on his massive wealth, he planned a great museum filled with treasures from all corners of the globe, charting the history of human health from prehistory to the present day. Demonstrating what can happen when a collector's aspirations are left unconstrained by wealth, Frances Larson explores Wellcome's life through his possessions, revealing the many tensions in his character: between his talents as a businessman and his desire for scholarly recognition; his curiosity and his perfectionism; and his philanthropic aspirations and his drive for personal glory. During the opening decades of the twentieth century he acquired a collection so large that later generations of staff took to describing its contents by the ton. But Wellcome's museum was never finished, and his collection was still stored in vast warehouses when he died, unseen and incomplete.
My Link