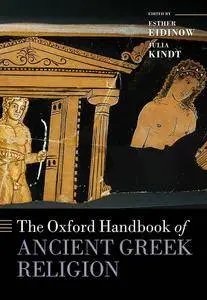 The Oxford Handbook of Ancient Greek Religion (Oxford Handbooks) by Esther Eidinow and Julia Kindt
English | 2015 | ISBN: 0199642036, 0198810172 | 736 pages | EPUB | 3 MB
This handbook offers a comprehensive overview of scholarship in ancient Greek religion, from the Archaic to the Hellenistic periods. It presents not only key information, but also explores the ways in which such information is gathered and the different approaches that have shaped the area. In doing so, the volume provides a crucial research and orientation tool for students of the ancient world, and also makes a vital contribution to the key debates surrounding the conceptualization of ancient Greek religion.
The handbook's initial chapters lay out the key dimensions of ancient Greek religion, approaches to evidence, and the representations of myths. The following chapters discuss the continuities and differences between religious practices in different cultures, including Egypt, the Near East, the Black Sea, and Bactria and India. The range of contributions emphasizes the diversity of relationships between mortals and the supernatural - in all their manifestations, across, between, and beyond ancient Greek cultures - and draws attention to religious activities as dynamic, highlighting how they changed over time, place, and context.
My nickname -
interes