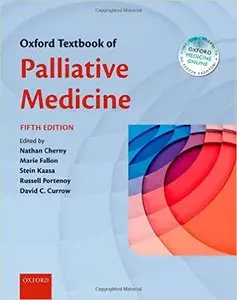 Nathan Cherny and Marie Fallon, "Oxford Textbook of Palliative Medicine, 5 edition"
English | ISBN: 0199656096 | 2015 | 1280 pages | PDF | 155 MB
The definitive Oxford Textbook of Palliative Medicine, now in its fifth edition, has again been thoroughly updated to offer a truly global perspective in this field of extraordinary talent and thoughtfulness.
Updated to include new sections devoted to assessment tools, care of patients with cancer, and the management of issues in the very young and the very old, this leading textbook covers all the new and emerging topics since its original publication in 1993. In addition, the multi-disciplinary nature of palliative care is emphasized throughout the book, covering areas from ethical and communication issues, the treatment of symptoms and the management of pain.
The print edition comes with a year's access to the online version on Oxford Medicine Online. By activating your unique access code, you can read and annotate the full text online, follow links from the references to primary research materials, and view, enlarge and download all the figures and tables, ensuring this edition continues to be at the forefront of palliative medicine.
This fifth edition of the Oxford Textbook of Palliative Medicine is dedicated to the memory of Professor Geoffrey Hanks, pioneer in the field of palliative medicine, and co-editor of the previous four editions. A truly comprehensive text, no hospital, hospice, palliative care service, or medical library should be without this essential source of information.