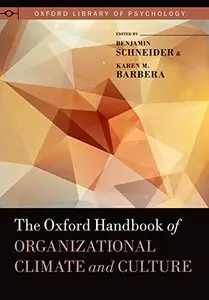 The Oxford Handbook of Organizational Climate and Culture (Oxford Library of Psychology) by Benjamin Schneider and Karen Barbera
English | 2014 | ISBN: 0199860718 | 752 pages | PDF | 11 MB
The Oxford Handbook of Organizational Climate and Culture presents the breadth of topics from Industrial and Organizational Psychology and Organizational Behavior through the lenses of organizational climate and culture.
The Handbook reveals in great detail how in both research and practice climate and culture reciprocally influence each other. The details reveal the many practices that organizations use to acquire, develop, manage, motivate, lead, and treat employees both at home and in the multinational settings that characterize contemporary organizations. Chapter authors are both expert in their fields of research and also represent current climate and culture practice in five national and international companies (3M, McDonald's, the Mayo Clinic, PepsiCo and Tata). In addition, new approaches to the collection and analysis of climate and culture data are presented as well as new thinking about organizational change from an integrated climate and culture paradigm.
No other compendium integrates climate and culture thinking like this Handbook does and no other compendium presents both an up-to-date review of the theory and research on the many facets of climate and culture as well as contemporary practice. The Handbook takes a climate and culture vantage point on micro approaches to human issues at work (recruitment and hiring, training and performance management, motivation and fairness) as well as organizational processes (teams, leadership, careers, communication), and it also explicates the fact that these are lodged within firms that function in larger national and international contexts.
My nickname -
interes