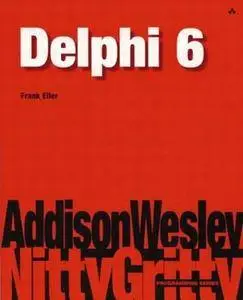 Frank Eller, "Nitty Gritty Delphi 6"
2002 | pages: 337 | ISBN: 0201758822 | PDF | 2,2 mb
– Master the essentials of Delphi 6 now, with this concise, hands-on tutorial.
– Includes extensive practical tips and techniques, plus a convenient reference section for Delphi 6 developers at every skill level.
– Well organized, attractively laid out, and competitively priced.
Borland Delphi 6 gives Windows programmers an outstanding rapid application development environment for creating both e-business applications and next-generation Nitty Gritty Delphi 6 gives them the concise, practical tutorial they need to get results with Delphi 6, fast. It focuses on the essence of Delphi 6, combining clearly written tutorials, expert tips and tricks, and a handy reference to the features used most widely and offering the greatest value. The book begins with a concise, practical introduction to Delphi 6 that introduces the essence of its powerful language and development environment. Part II builds on this foundation, presenting real-world tips and techniques designed to deepen your skills and extend your range as a developer of Delphi 6 solutions. Part III offers a concise, "to-the-point" reference to key Delphi 6 commands that will be invaluable to new and experienced programmers alike. For every developer new to Delphi 6, and for developers upgrading from earlier versions of Delphi.
My Link