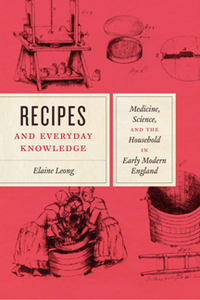 Recipes and Everyday Knowledge :
Medicine, Science, and the Household in Early Modern England
by Elaine Leong
English | 2018 | ISBN: 022658366X | 295 Pages | PDF | 2.17 MB
Across early modern Europe, men and women from all ranks gathered medical, culinary, and food preservation recipes from family and friends, experts and practitioners, and a wide array of printed materials. Recipes were tested, assessed, and modified by teams of householders, including masters and servants, husbands and wives, mothers and daughters, and fathers and sons. This much-sought know-how was written into notebooks of various shapes and sizes forming "treasuries for health," each personalized to suit the whims and needs of individual communities.
In Recipes and Everyday Knowledge, Elaine Leong situates recipe knowledge and practices among larger questions of gender and cultural history, the history of the printed word, and the history of science, medicine, and technology. The production of recipes and recipe books, she argues, were at the heart of quotidian investigations of the natural world or "household science". She shows how English homes acted as vibrant spaces for knowledge making and transmission, and explores how recipe trials allowed householders to gain deeper understandings of sickness and health, of the human body, and of natural and human-built processes. By recovering this story, Leong extends the parameters of natural inquiry and productively widens the cast of historical characters participating in and contributing to early modern science.