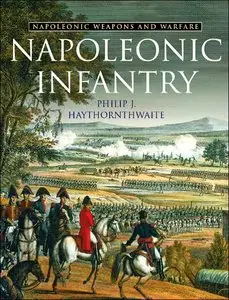 Philip Haythornth-waite, Philip J. Haythornthwaite "Napoleonic Infantry: Napoleonic Weapons and Warfare"
Cassell | 2002-05-01 | ISBN: 0304355097 | 128 pages | PDF | 30 MB
In the armies of the Napoleonic era, the infantry formed the most numerous, and arguably the most important, of all the 'arms'. But the winning of the battle is in the detail - the proper management of those arms. In this book, companion to the similar work on cavalry, the author looks toward what actually happened in the battles of the period, rather than what should have occurred, according to the regulations. The infantry's weapons are examined: the use of the musket, bayonet, pikes and swords, the manner in which they were used in attack and defence, exemplified by contemporary accounts and illustrations. Misconceptions are explored and questions answered: for example, why the bayonet was so highly regarded when it inflicted hardly any casualties, why the merits of the column and the line are not clear-cut and how, whether in square or skirmish line, the infantry of the Napoleonic Wars actually fought.
Download FREE:
No Mirror(s) Please!