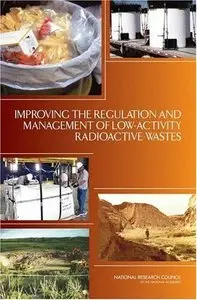 Author, "Improving the Regulation and Management of Low-Activity Radioactive Wastes"
Na tional Aca demies Press | 2006 | ISBN: 0309101425 | 224 pages | PDF | 1 MB
The largest volumes of radioactive wastes in the United States contain only small amounts of radioactive material. These low-activity wastes (LAW) come from hospitals, utilities, research institutions, and defense installations where nuclear material is used. Millions of cubic feet of LAW also arise every year from non-nuclear enterprises such as mining and water treatment. While LAW present much less of a radiation hazard than spent nuclear fuel or high-level radioactive wastes, they can cause health risks if controlled improperly. LAW should be regulated and managed according to the degree of risk they pose for treatment, storage, and disposal. Current regulations are based primarily on the type of industry that produced the waste–the waste's origin–rather than its risk. In this report, a risk-informed approach for regulating and managing all types of LAW in the United States is proposed. Implemented in a gradual or stepwise fashion, this approach combines scientific risk assessment with public values and perceptions. It focuses on the hazardous properties of the waste in question and how they compare with other waste materials. The approach is based on established principles for risk-informed decision making, current risk-informed initiatives by waste regulators in the United States and abroad, solutions available under current regulatory authorities, and remedies through new legislation when necessary.
Download