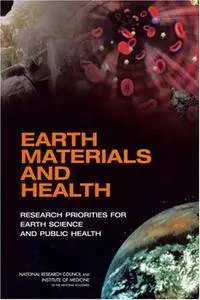 National Research Council, "Earth Materials and Health: Research Priorities for Earth Science and Public Health"
English | 2007 | ISBN: 030910470X | PDF | pages: 189 | 8.4 mb
A range of natural earth materials, like arsenic or fluoride, have long been linked to significant human health effects. Improved understanding of the pervasive and complex interactions between earth materials and human health will require creative collaborations between earth scientists and public health professionals. At the request of the National Science Foundation, U.S. Geological Survey, and National Aeronautics and Space Administration, this National Research Council book assesses the current state of knowledge at the interface between the earth sciences and public health disciplines. The book identifies high-priority areas for collaborative research, including understanding the transport and bioavailability of potentially hazardous earth materials, using risk-based scenarios to mitigate the public health effects of natural hazards under current and future climate regimes, and understanding the health risks that result from disturbance of earth systems. Geospatial information - geological maps for earth scientists and epidemiological data for public health professionals - is identified as one of the essential integrative tools that is fundamental to the activities of both communities. The book also calls for increased data sharing between agencies to promote interdisciplinary research without compromising privacy.