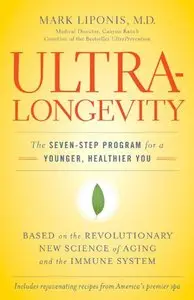 UltraLongevity: The Seven-Step Program for a Younger, Healthier You by Mark Liponis
English | 2007 | ISBN: 0316017280 , 0316017299 | ISBN-13: 9780316017282 , 9780316017299 | 304 pages | EPUB | 0,46 MB
Medical director of the world-famous Canyon Ranch Health Resorts, Dr. Mark Liponis presents his extraordinary new idea: that aging and aging-related diseases–-including heart disease, cancer, and diabetes–-are autoimmune problems, and that a well-managed immune system is the key to healthy aging.
Cutting-edge research makes UltraLongevity the first and only book to explore aging within the context of the immune system, and it will change the way we look at health forever. Starting with a quiz–-"How Fast Are You Aging?"–-Liponis explains the new science, lays out an accessible and proven 7-step program with an 8-day meal plan, and motivates readers to put the program into practice so that they can keep their minds sharp, become more physically fit, be more resistant to infections and disease, and feel and stay younger than they ever imagined. Through the UltraLongevity program, Liponis promises more than a long life; he promises a long, healthy life.
Advance praise for UltraLongevity
"What an awesome and practical anti-aging program! Dr. Liponis's approach to longevity is based on proven technological breakthroughs supported by hundreds of studies. This is the best original thinking I have seen in decades!"-Stephen T. Sinatra, MD, FACC, CNS, coauthor of Reverse Heart Disease Now
"UltraLongevity is a treasure-it's loaded with exactly the kind of information everyone needs to live well and vibrantly-for as long as possible." -Christiane Northrup, MD, author of Women's Bodies, Women's Wisdom
". . . an insightful, simplified, and integrated approach to achieving optimal health, wellness, and longevity." -Richard Carmona, MD, MPH, FACS, 17th Surgeon General of the United States