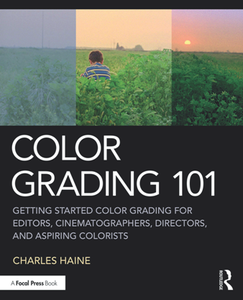 Color Grading 101 : Getting Started Color Grading
for Editors, Cinematographers, Directors, and Aspiring Colorists
by Charles Haine
English | 2019 | ISBN: 0367140055 | 223 Pages | PDF | 32 MB
Written both for students and working professionals, this book walks readers step-by-step through the foundations of color grading for projects of any size, from music videos and commercials to full-length features.
In this clear, practical, and software-agnostic guide, author Charles Haine introduces readers to the technical and artistic side of color grading and color correction. Color Grading 101 balances technical chapters like color-matching, mastering, and compression with artistic chapters like contrast/affinity, aesthetic trends, and building a color plan. The book also includes more business-focused chapters detailing best practices and expert advice on working with clients, managing a team, working with VFX, and building a business. An accompanying eResource offers downloadable footage and project files to help readers work through the exercises and examples in the book.
This book serves as a perfect introduction for aspiring colorists as well as editors, cinematographers, and directors looking to familiarize themselves with the color grading process.
If you want to support my blog, then you can buy a premium account through any of my files (i.e. on the download page of my book). In this case, I get a percent of sale and can continue to delight you with new books!