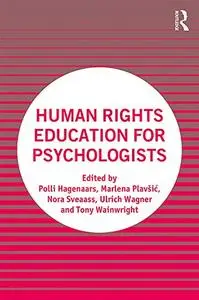 Human Rights Education for Psychologists by Polli Hagenaars, Marlena Plavšić, Nora Sveaass, Ulrich Wagner, Tony Wainwright
2020 | ISBN: 0367222965, 0367222876 | English | 316 pages | PDF | 7 MB
This ground-breaking book is designed to raise awareness of human rights implications in psychology, and provide knowledge and tools enabling psychologists to put a human rights perspective into practice.
Psychologists have always been deeply engaged in alleviating the harmful consequences human rights violations have on individuals. However, despite the fundamental role that human rights play for professional psychology and psychologists, human rights education is underdeveloped in psychologists' academic and vocational training. This book, the first of its kind, looks to change this, by:
raising awareness among professional psychologists, university teachers and psychology students about their role as human rights promoters and protectors
providing knowledge and tools enabling them to put a human rights perspective into practice
providing texts and methods for teaching human rights.
Featuring chapters from leading scholars in the field, spanning 18 countries and six continents, the book identifies how psychologists can ensure they are practising in a responsible way, as well as contributing to wider society with a clear knowledge of human rights issues in relation to culture, gender, organisations and more.
Including hands-on recommendations, case studies and discussion points, this is essential reading for professional psychologists as part of continuing professional development and those in training and taking psychology courses.