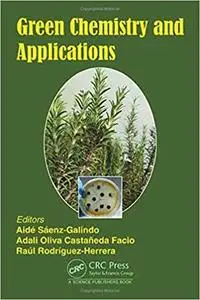 Aide Sáenz-Galindo, "Green Chemistry and Applications"
English | ISBN: 0367260336 | 2020 | 300 pages | PDF | 8 MB
Green chemistry is a work tool that can be applied in different areas such as medicine, materials, polymers, food, organic chemistry, etc., since it was propounded in the early 2000s. It has become a viable alternative for care, remediation and protection of the environment and has been implemented worldwide. In this book the twelve principles of green chemistry are presented in a simple way, with examples of the applications of green chemistry in numerous areas showcasing it as an ideal alternative for environmental care. It also provides information on current research being implemented at the pilot plant and industrial level. The book demonstrates the importance of the use of renewable raw materials, the use of catalysis and the implementation of alternative energy sources such as the use of microwaves and ultrasound in different separation and chemical processes.