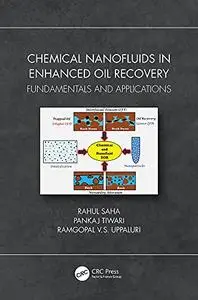 Chemical Nanofluids in Enhanced Oil Recovery: Fundamentals and Applications by Rahul Saha, Pankaj Tiwari, Ramgopal V.S. Uppaluri
2021 | ISBN: 0367425246 | English | 170 pages | PDF | 6 MB
Sustainable world economy requires a steady supply of crude oil without any production constraints. Thus, the ever-increasing energy demand of the entire world can be mostly met through the enhanced production from crude oil from existing reservoirs. With the fact that newer reservoirs with large quantities of crude oil could not be explored at a faster pace, it will be inevitable to produce the crude oil from matured reservoirs at an affordable cost. Among alternate technologies, the chemical enhanced oil recovery (EOR) technique has promising potential to recover residual oil from matured reservoirs being subjected to primary and secondary water flooding operations. Due to pertinent complex phenomena that often have a combinatorial role and influence, the implementation of chemical EOR schemes such as alkali/surfactant/polymer flooding and their combinations necessitates upon a fundamental understanding of the potential mechanisms and their influences upon one another and desired response variables. Addressing these issues, the book attempts to provide useful screening criteria, guidelines, and rules of thumb for the identification of process parametric sets (including reservoir characteristics) and response characteristics (such as IFT, adsorption etc.,) that favor alternate chemical EOR systems. Finally, the book highlights the relevance of nanofluid/nanoparticle for conventional and unconventional reservoirs and serves as a needful resource to understand the emerging oil recovery technology. Overall, the volume will be of greater relevance for practicing engineers and consultants that wish to accelerate on field applications of chemical and nano-fluid EOR systems. Further, to those budding engineers that wish to improvise upon their technical know-how, the book will serve as a much-needed repository.