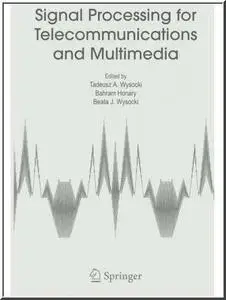 Signal Processing for Telecommunications and Multimedia (Multimedia Systems and Applications) by Tadeusz A. Wysocki (Editor), Bahram Honary (Editor), Beata J. Wysocki (Editor)
Publisher: Springer; 1 edition (October 1, 2004) | ISBN-10: 0387228470 | PDF | 11,3 Mb | 285 pages
The unprecedented growth in the range of multimedia services offered today by modern telecommunication systems, is possible because of the advancements in signal processing technologies and algorithms.
Signal Processing for Telecommunications and Multimedia presents a group of invited contributions, some of which have been based on the papers presented at the 7th International Symposium on DSP for Communication Systems held in Coolangatta on the Gold Coast, Australia, in December 2003. Part I of the book deals with applications of signal processing to transform what we hear or see to the form that is most suitable for transmission or storage for a future retrieval. The first three chapters in this section are devoted to processing of speech and other audio signals. The next two chapters consider image coding and compression, while the last chapter of this part describes classification of video sequences in the MPEG domain.
Download from Ftp2Share