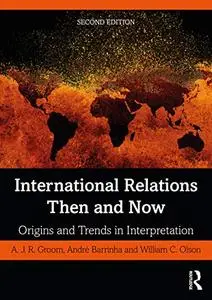 International Relations Then and Now: Origins and Trends in Interpretation, 2nd Edition by A.J.R. Groom, Andre Barrinha, William C. Olson
2019 | ISBN: 041518021X, 0415180201 | English | 248 pages | PDF | 3 MB
The new edition of this classic history of International Relations has been completely revised and updated throughout and remains a major guide to the intellectual lineage and development of the field.
In International Relations Then and Now the authors examine the historical antecedents and the emergence of theories of the state system during the 18th and 19th centuries culminating in the short-lived League of Nations. They look at the foundation of International Relations as an academic discipline and the competing theories that emerged within it. In an entirely new part to this volume, they also consider contemporary developments within the theories and methodologies of International Relations, including feminism and postcolonialism.
International Relations Then and Now is an indispensable text for students and scholars interested in the history of the development of International Relations.