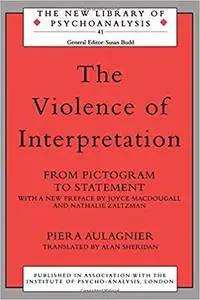 Piera Aulagnier, "The Violence of Interpretation"
2001 | pages: 278 | ISBN: 0415236762 | PDF | 3,1 mb
Published in English for the first time, this is a seminal work by an original and creative analytical thinker.
Piera Aulagnier's The Violence of Interpretation bridges the work of Winnicott and Lacan, putting forward a theory of psychosis based on children's early experiences. The author's analysis of the relationship between the other's communications and the infant's psychic experience. and of the pre-verbal stage of development of unconscious fantasy starting from the 'pictogram', have fundamental implications for the psychoanalytic theory of development. She developed Lacan's ideas to enable the treatment of severe psychotic states.
Containing detailed discussion of clinical material, and written in the author's precise yet provocative style, The Violence of Interpretation is a welcome addition to the New Library of Psychoanalysis.
My Link