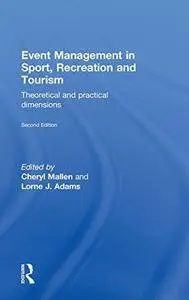 Event Management in Sport, Recreation and Tourism: Theoretical and Practical Dimensions by Cheryl Mallen
English | 2013 | ISBN: 0415641004 | 264 Pages | PDF | 820.63 KB
Now in a fully revised and updated second edition, Event Management in Sport, Recreation and Tourism provides a comprehensive theoretical and practical framework for planning and managing events. Focusing on the role of the event manager and their diverse responsibilities through each phase of the event planning process, this is still the only textbook to define the concept of knowledge in the context of events management, placing it at the centre of professional practice.
The book is designed to encourage critical thinking on the part of the student, to develop the skills that they will need to become effective, and reflective, practitioners in the events industry, and every chapter contains a rich array of real world case studies, data and practical examples from sport, recreation and tourism contexts. This second edition has been significantly strengthened with the inclusion of two completely new chapters on environmental sustainability and on the politics of events management. It is essential reading for any student or practitioner working in events management, sport management, leisure management, outdoor recreation or tourism.