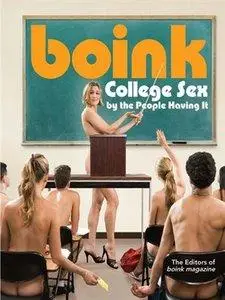 The Editors of boink magazine, Alecia Oleyourryk, "Boink: College Sex by the People Having It"
ISBN: 044669875X | 2008 | EPUB | 272 pages | 22 MB
BOINK is what happens when a group of undergrads from Boston University decide to publish a sex magazine. Now comes their explosive book, the definitive college guide to carnal knowledge. Openly exploring sexual themes that are relevant to all men and women, these 4-color, beautifully designed pages are filled with never-before-published true stories, prescriptive advice, graphic confessions, and no-holds-barred nude pictures of real university students (not the fake "college co-eds" all over the internet). With student contributors from named major universities, BOINK vividly details what goes on under the dorm room sheets across the country.