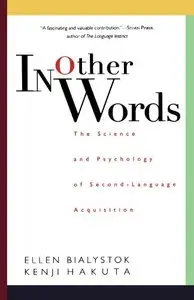 Ellen Bialystok, Kenji Hakuta, "In Other Words: The Science And Psychology Of Second-language Acquisition"
English | 1995 | ISBN: 0465032818, 0465075657 | 256 pages | PDF | 60,5 MB
Although a person's ability to learn a second language declines continuously with age, recent research summarized in this survey suggests that adults are more capable of second-language acquisition than most people assume. In an academic treatise that will appeal primarily to theorists, linguists, psychologists and educators, the authors, both professors of psychology (Bialystok at England's York University, Hakuta at Stanford), stress that learning a second language fosters new ways of organizing concepts and of thinking. Language proficiency, they note, defies easy explanation, since research has found no systematic correlation among personality, motivation, cognitive style, intelligence and the ability to learn a second language. They conclude with suggestions on ways to make language teaching culturally sensitive and responsive to a student's specific situation.