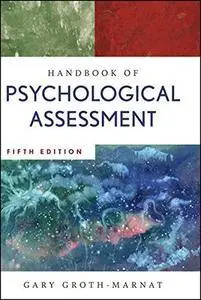 Handbook of Psychological Assessment, 5th Edition by Gary Groth-Marnat
English | May 4, 2009 | ISBN: 0470083581 | PDF | 768 pages | 4.7 MB
The most highly acclaimed and complete reference work on psychological assessment-fully updated and expanded
Covering principles of assessment, evaluation, referral, treatment planning, and report writing, the latest edition of Gary Groth-Marnat's landmark Handbook of Psychological Assessment has been thoroughly revised and expanded. Written in a practical, skills-based manner, this classic resource offers coverage of the most widely used assessment instruments and has been updated to include new material and cover tests that are growing in popularity, such as brief assessment instruments. Handbook of Psychological Assessment also provides guidance on the most efficient methods for selecting and administering tests, how to interpret assessment data, and how to integrate test scores and develop treatment plans as well as instruction on ways in which to write effective, client-oriented, problem-solving psychological reports.
The Fifth Edition provides thorough coverage of the most commonly used assessment instruments including the Wechsler Adult Intelligence Scale-Fourth Edition (WAIS-IV), Wechsler Intelligence Scale for Children-Fourth Edition (WISC-IV), Wechsler Memory Scale-Fourth Edition (WMS-IV), Minnesota Multiphasic Personality Inventory-2 (MMPI-2), California Psychology Inventory (CPI), Rorschach, Millon Clinical Multiaxial Inventory-III (MCMI-III), Thematic Apperception Test, Repeatable Battery for the Assessment of Neuropsychological Status (RBANS), brief assessment instruments, clinical interviewing, and behavioral assessment.
In addition, this Fifth Edition includes:
Updates on the new WAIS-IV, WISC-IV, and WMS-IV
An increased emphasis on diversity
A focus on screening for neuropsychological impairment, including coverage of the Repeatable
Battery for the Assessment of Neuropsychological Status (RBANS)
Coverage of the Minnesota Multiphasic Personality Inventory-2-Restructured Form
New information on client feedback and consultation
An updated chapter on psychological report writing, including new examples of psychological reports
Organized according to the sequence mental health professionals follow when conducting an assessment, Handbook of Psychological Assessment, Fifth Edition is a practical, valuable reference for professionals looking to stay current as well as for students looking for the most thorough and trusted resource covering the field of psychological assessment.