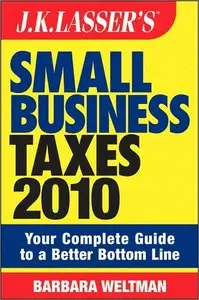 Barbara Weltman "JK Lasser's Small Business Taxes 2010: Your Complete Guide to a Better Bottom Line"
Wiley | English | 2009-11-09 | ISBN: 0470445475 | 591 pages | PDF | 2,9 MB
The tax facts and strategies that every small business owner needs to know
Written in a straightforward and accessible style, this reliable resource offers a complete overview of small business tax planning and provides you with the information needed to make tax-smart decisions throughout the year.
Focusing on strategies that help you use deductions and tax credits effectively, shield business income, and maximize other aspects of small business taxes, this practical guide will show you how your actions in business today can affect your bottom line from a tax perspective tomorrow.
• Includes detailed coverage of the newest tax laws and IRS rules
• Reveals strategies that can help you run a tax-smart business all year long
• Contains comprehensive information on each deductible expense, including dollar limits and record-keeping requirements
• Offers clear instructions on where to report income and claim deductions on your tax forms
• Provides help with state taxes and a guide to information returns you may need to file
• Other titles by Weltman: J.K. Lasser's 1001 Deductions & Tax Breaks 2010
Owning a small business is a big responsibility. While many small business owners seek to improve their bottom line, few realize all the ways that both current and new tax laws can help them do so. With J.K. Lasser's Small Business Taxes 2010, you'll quickly discover how.
To start download click HERE: