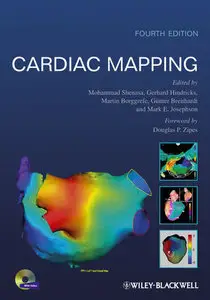 Cardiac Mapping by Mohammad Shenasa, Gerhard Hindricks, Martin Borggrefe and Gunter Breithardt
English | 2012 | ISBN: 0470670460 | 966 pages | PDF | 45,4 MB
Cardiac Mapping is the cardiac electrophysiologist's GPS. It will guide you to new places in the heart and help you find the old places more easily…a valuable addition to your bookshelf
Douglas P. Zipes, from the Foreword.
Over the course of three previous editions, this book has become the acknowledged gold standard reference on the electro-anatomical mapping of the heart. This new edition features greatly expanded coverage—the number of chapters have doubled to 80 with 40 new chapters—on leading edge science, new clinical applications and future frontiers, authored by a who's-who of global electrophysiology.
This unique text offers truly comprehensive coverage of all areas of cardiac mapping, from core scientific principals to methodological and technical considerations to the latest data that you can put to work caring for patients. In addition, the all new 4th edition adds essential content on:
• Mapping in experimental models of arrhythmias
• Mapping supraventricular and ventricular tachyarrhythmias
• New catheter-based techniques
• Also featuring a companion website with video clips illustrating essential techniques described in the text
The only state-of-the-art, stand-alone text on this dynamic subject, Cardiac Mapping is an essential resource for basic scientists, clinical electrophysiologists, cardiologists and all physicians who care for patients with cardiac arrhythmias.
My nickname -
interes