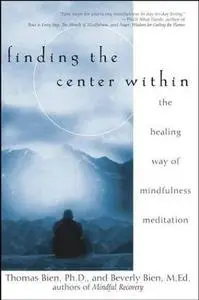 Finding the Center Within: The Healing Way of Mindfulness Meditation by Thomas Bien (Author), Beverly Bien (Author)
Publisher: Wiley (September 29, 2003) | ISBN-10: 047126394X | PDF | 1 Mb | 288 pages
"Finding the Center within is a practical manual on the practice of mindfulness which can help many people to embody their Buddha nature and become radiant and peaceful beings. It provides easy steps for practicing mindfulness in day-to-day living." Thich Nhat Hanh, Nobel Peace Prize-winning and New York Times bestselling author of Peace Is Every Step, The Miracle of Mindfulness, and Anger: Wisdom for Cooling the Flames
Thich Nhat Hanh, author of Peace Is Every Step, The Miracle of Mindfulness, and Anger: Wisdom for Cooling the Flames
All of us want to live a calmer, more peaceful existence. Thomas and Beverly Bien teach that if we find the center within through ongoing mindfulness, we will have the capacity to live deeply and fully–with boundless peace and happiness–in any external circumstance. We can learn to be calm in the midst of the storm.
Finding the Center Within offers a step-by-step program for breaking down the barriers that prevent us from actualizing our wise inner self. The Biens combine Eastern spiritual wisdom with the pragmatic wisdom of Western psychology, teaching us how to remove the walls that conceal who and what we really are and face our lives with greater honesty. They provide the tools needed to:
— Find a path to the center through mindfulness — Bring meditation into everyday life — Work with and transform negative emotions — Cultivate healthy, healing relationships — Use dreams to achieve maximum wholeness and self-acceptance
You'll discover how to find greater peace, joy, and love in your life and deepen your capacity for psychological and spiritual well-being. Let Finding the Center Within inspire and guide you as you make the journey to awareness and open yourself to a world of happiness.
AIO BookReaders Pack
4.8 Mb: (PDF: Foxit PDF Reader Pro v2.0 Build 1414; PDB: iSilo v4.32; DjVu: DjVuReader v2.0.20 and WinDjView v0.5)
DL:
Easy-Share
or
Depositfiles
or
Rapidshare
Important
: All questions, requests, etc. for ME send to my PM (Send Message link), please (not in comments). I will try to answer all letters. But do not be offended if you do not obtain the answer. :)

No MIRRORs below!