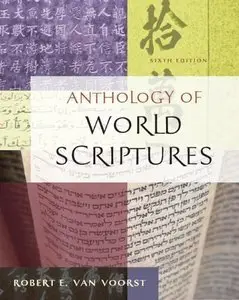 Robert E. Van Voorst, "Anthology of World Scriptures, 6th Edition"
W..rth Publishing | 2007 | ISBN: 0495503878 | 396 pages | PDF | 3,9 MB
Anthology of World Scriptures is a comprehensive collection of scriptures from the major world religions, including: Hinduism, Buddhism, Jainism, Sikhism, Confucianism, Taoism, Shinto, Zoroastrianism, Judaism, Christianity, and Islam, as well as scriptures from more recent religious movements. The text presents scripture readings in context, giving you a framework that shows how each religion is actually practiced today, as well as its history, teachings, organization, ethics and rituals. The readings are supported by introductions, study questions, glossaries, and suggestions for further reading, providing additional tools for review.
Download