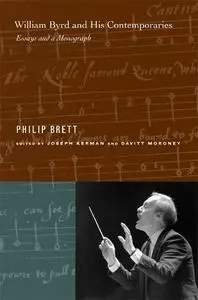 Philip Brett, Joseph Kerman, Davitt Moroney, "William Byrd and His Contemporaries: Essays and a Monograph"
English | 2006 | ISBN: 0520247582 | PDF | pages: 268 | 1.8 mb
Throughout his distinguished career, Philip Brett wrote about the music of the Tudor period. He carried out pathbreaking work on the life and music of William Byrd (c.1540-1623), both as an editor and a historian. He also studied other composers working during the period, including John Taverner, Thomas Tallis, Orlando Gibbons, and Thomas Weelkes. Collecting these influential essays together for the first time, this volume is a tribute to Brett's agile mind and to his incomparable skill at synthesizing history and musical analysis.
Byrd was a prominent court composer, but also a Catholic. Besides important instrumental music and English songs, he wrote a great deal of sacred music, some for his Protestant patrons, and some for his fellow Catholics who celebrated mass in secret. Ranging from the report of Brett's findings on the Paston manuscripts, an unpublished round-table paper that he delivered a few months before his untimely death, to his monograph-length study of Byrd's magnum opus, Gradualia, the essays collected here consider both sacred and secular music, and vocal and instrumental traditions, providing an intimate glimpse into what was unique about Byrd and his music. Elegantly written, with the particular brilliance for which Brett was known, this book opens a fascinating window onto one of the most fruitful periods of English musical history.