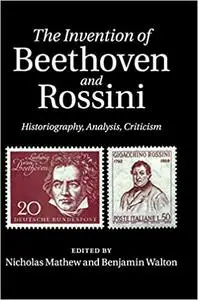 Nicholas Mathew, "The Invention of Beethoven and Rossini: Historiography, Analysis, Criticism"
English | ISBN: 0521768055 | 2013 | 396 pages | PDF | 8 MB
Beethoven and Rossini have always been more than a pair of famous composers. Even during their lifetimes, they were well on the way to becoming 'Beethoven and Rossini' – a symbolic duo, who represented a contrast fundamental to Western music. This contrast was to shape the composition, performance, reception and historiography of music throughout the nineteenth and twentieth centuries. The Invention of Beethoven and Rossini puts leading scholars of opera and instrumental music into dialogue with each other, with the aim of unpicking the origins, consequences and fallacies of the opposition between the two composers and what they came to represent. In fifteen chapters, contributors explore topics ranging from the concert lives of early nineteenth-century capitals to the mythmaking of early cinema, and from the close analysis of individual works by Beethoven and Rossini to the cultural politics of nineteenth-century music histories.