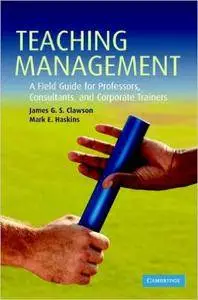 James G. S. Clawson, Mark E. Haskins, "Teaching Management: A Field Guide for Professors, Consultants, and Corporate Trainers"
2006 | pages: 509 | ISBN: 0521869757 | PDF | 1,9 mb
How can every management class be a dynamic, unforgettable experience? This much-needed book distils over half a century of the authors' combined experience as university professors, consultants, and advisors to corporate training departments. In a lively, hands-on fashion, it describes the fundamental elements in every learning situation, allowing readers to adapt the suggestions to their particular teaching context. It sparks reflection on what we do in the classroom, why we do it, and how it might be done more effectively. The chapters are broadly organized according to things you do before class, things you do during class, and things you do in between and after class, so that every instructor, whether newly-minted PhDs facing their first classroom experience, experienced faculty looking to polish their teaching techniques, consultants who want to have more impact, or corporate trainers wishing to develop in-house teaching skills, can benefit from the invaluable advice given.
My Link