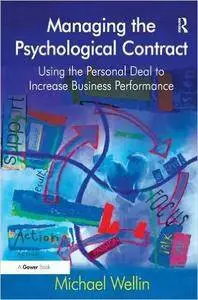 Michael Wellin, "Managing the Psychological Contract: Using the Personal Deal to Increase Business Performance"
ISBN: 056608726X | 2007 | PDF | 260 pages | 1 MB
The psychological contract lies at the heart of your relationship with the organisation you work for. It is the deal you make with your employer and colleagues at work; it is about your mutual expectations and their fulfilment. Too often this contract is implicit and left to chance, resulting in misunderstanding, stress, lower commitment and performance. The author demonstrates how to use the psychological contract to raise the business game and increase personal fulfilment. Managing the Psychological Contract is the first book which shows how the psychological contract can be used in practice. In it Michael Wellin advocates going beyond the traditional static view of the psychological contract between the organisation and its employees. He shows how to create unique and dynamic customised Personal Deals between people and teams. He does this by showing how to make personal deals explicit and mutual, and provides practical tips for leaders, employees and HR professionals. Separate chapters are devoted to leadership, culture change and strategic HR management. There is also a chapter of practical ideas for individuals who want to change their personal deal at work. The author's ideas are based on his own research and consultancy experience as well as the latest business school research. The book has a number of case studies showing how different organisations use the psychological contract. This is an important and extremely readable book for all those concerned with the improved performance of people and organisations.