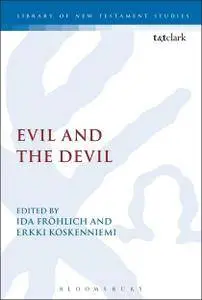 Evil and the Devil (Library of New Testament Studies) by Ida Fröhlich, Erkki Koskenniemi
English | ISBN: 0567371484 | 2013 | PDF | 272 pages | 1.28 MB
The problem of evil has preoccupied world religions for centuries. The Old Testament contained no uniform dogma on evil powers, launching a fierce debate that has dominated theological and philosophical thought through the centuries to this day.
Evil and the Devil brings together contributions from leading inter national scholars to chart that debate, tracing the history of evil from its origins in the Old Testament through early Judaism and the New Testament to the thought of Origen and one of the topic's most influential theologians, Augustine. What role did evil adopt in ancient Judaism? What impact did the association of miracles with demons have upon Matthew's Gospel? Evil and the Devil examines such questions, resulting in a fascinating and comprehensive exploration of portrayals of evil and its power and influence on religious thought.
Table of Contents
Introduction
1. The Devil in the Old Testament, Prof. Antti Laato
2. Evil in Second Temple Texts, Prof. Ida Fröhlich
3. Demonic Beings and the Dead Sea Scrolls, Prof. Loren T. Stuckenbruck
4. The Devil in Rabbinic Literature, Prof. Gottfried Reeg
5. Miracles of the Devil and His Assistants in Early Judaism and Their Influence on the Gospel of Matthew, Adj. Prof. Erkki Koskenniemi
6. Mark and the Devil, Prof. Jan Dochhorn
7. Binding the Strong Man: Demon-Possession and Liberation in the Gospel of Luke, Dr. Márta Cserháti
8. The Believing Jews as the Children of the Devil in John 8.44: Similarity as a Threat to Social Identity, Dr. Raimo Hakola
9. Paul and the Devil, Dr.Michael Becker
10. 1 Peter and the Lion, Prof. Lauri Thurén
11. The Dangerous Loser: The Narrative and Rhetorical Function of the Devil as Character in the Book of Revelation, Dr. Michael Labahn
12. "Evil is not a Nature". Origen on Evil and the Devil, Dr. Anna Tzvetkova-Glaser
13. Augustine and Evil, Prof. Frederick Van Fleteren
Bibliogrpahy
Index
Many Thanks to Original uploader.
For More Rare Movies
Check out my blog!
Download Links :
No Mirrors Please